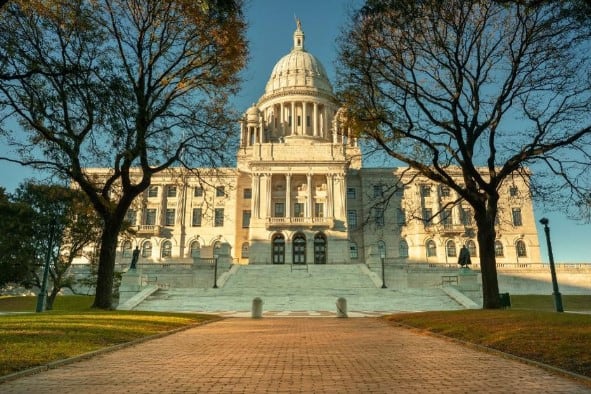 It has been more than three years since Governor Jack Markell of Delaware announced his intention to use blockchain technology to make Delaware state government more efficient. That was when I worked for the State as its Director of Corporate and International Development and led the Delaware Blockchain Initiative. Governor Markell left office more than 2 years ago and I left the State a year later, and we are still waiting for the Division of Corporations to offer its corporate citizens the opportunity to issue digital shares on a blockchain.
In the last few years, several state jurisdictions have proposed and/or enacted blockchain-related legislation to provide clarity around money transmission laws or to enable the use of blockchain technology in connection with the issuance of shares of stock, or some other blockchain-related topic. The State of Wyoming has enacted a spate of blockbuster laws that creates a regulatory framework for trade finance involving the entire spectrum of digital assets (which you can read about here), and it is the only state to have done so.
But what about the firey promise that blockchain technology can make life better for its residents ignited by the State of Delaware? Which state has picked up the torch?
For that we turn to Elizabeth Tanner, Director of Rhode Island's Department of Business Regulation who, remarkably, is also an e-resident of Estonia, the pioneering blockchain-enabled country in Europe. She thinks that Estonia has the right idea about how governments can use blockchain technology to break down barriers and deliver more efficient services. And she's not alone. Rhode Island Secretary of Commerce Stefan Pryor, and his boss, Governor Gina Raimondo share the enthusiasm for blockchain technology.
On May 31, the State of Rhode Island issued a Request for Proposals (RFP) for a proof of concept implementation using blockchain technology to further its goals to be more efficient, transparent, accurate, secure and business friendly. Director Tanner explains, "we want greater inter-connectivity between government, business and our citizens," and adds, "we need bold ideas to make government better."
It looks like the State will get what it is looking for. According to Director Tanner, the response to the RFP has been strong. Tanner's team is manning the phones to respond to the large number of inquiries pouring in.
Director Tanner's Department of Business Regulation regulates a vast swath of the State's industries, from banking and insurance, to mobile homes, as well as licensing professionals. (The Department doesn't cover corporate registrations or Uniform Commercial Code filings, however.) The RFP seeks blockchain innovators with neat solutions to create efficiencies in Director's Tanner's Department. But excellent ideas that do not fit neatly into her Department will not be turned away. Director Tanner assured me that she will make the appropriate connections to agency heads outside of her area.
When asked about the budget to cover the expenses associated with implementing blockchain projects, Director Tanner expressed that they will find the funding for meaningful projects. She emphasized that Rhode Island officials want the State to become the testing ground for creatives working in the blockchain space. Director Tanner pointed to the State's many incentives, including a $50,000 voucher that allows entrepreneurs to test their products and services at any of the State's universities, including Brown University, RISD and Johnson and Wales, among others.
The push to bring blockchain technology to Rhode Island began last summer when the State hosted its inaugural blockchain summit (which I attended). What was most impressive about the event was not the large number of participants or the topics covered, but the genuine interest of the state officials — including Governor Raimondo who made welcoming remarks– to come up to speed on blockchain technology, while at the same time soliciting input from attendees on how to make Rhode Island blockchain-friendly.
The Summit led to many inquiries about the State's current money transmitter law. Deputy Director Beth Dwyer who runs the R.I. Banking Division told me that Rhode Island's money transmitter law (like most state laws of this type) was enacted to regulate businesses that deal in fiat currency, but due to the emergence of cryptocurrency, the current law is ambiguous. She explained, "we want to make it crystal clear who needs a license and who doesn't need a license. That's why there is pending legislation."
Director Dwyer and her team reached out to experts in the industry to get input on Rhode Island's draft legislation. The pending bill reflects the input they received and consolidates Rhode Island's current electronic money transmitter license and its sales of checks license with authority for virtual currency. The new license allows businesses to conduct all of the activities allowed under the two prior licenses, plus virtual currency activities. So, under the pending legislation a crypto business will only need one license instead of two. The legislation will be voted on in this legislative session and it is expected to pass.
I asked Director Dwyer, whether she thought the State's size has something to do with its willingness to innovate with blockchain technology and she responded that, "when you are in a small state, you need to think more about how what you do will benefit consumers. If you waste companies' time with ineffective regulations, consumers will end up paying in the form of higher prices."
Here's hoping for something big from this small state.