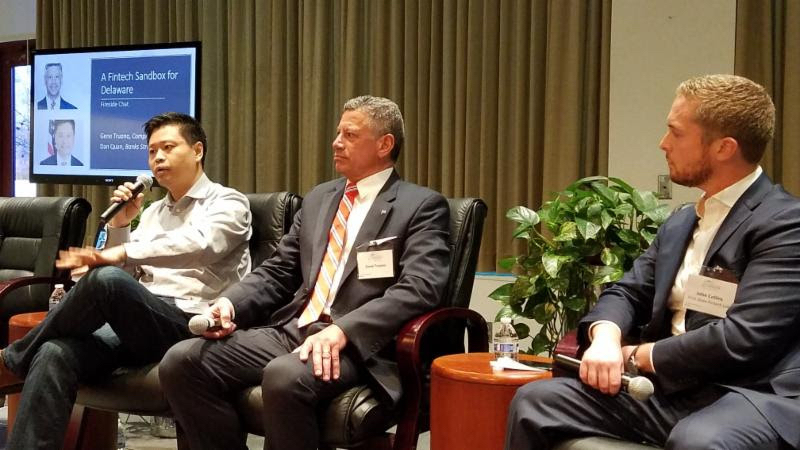 Here's something for those who doubt the impact of fintech in Delaware: December's First State Fintech Forum was so popular that it's going to become a regular thing.
We're not surprised. Our Technical.ly Delaware stakeholders have been long saying fintech is the tech industry to watch.
The Forum's collaborators, The New Castle County Chamber of Commerce and the First State Fintech Lab, have announced plans to co-develop the Greater Delaware Fintech Network (GDFN), which will, if all goes as planned, meet at least six times a year and focus on everything fintech — from legislative advocacy to building the fintech talent pipeline to supporting fintech startups.
"The Fintech Forum was timely, and it proved what we already knew: There is a need and a hunger for these types of discussions,' said John Collins, cofounder of the First State Fintech Lab. "The New Castle County Chamber has a unique understanding of the regional business community, from big institutions to small startups, and we're looking forward to working together with them to make Delaware a fintech leader."
Delaware's financial services sector accounted for nearly 37,000 jobs in 2017, according to Bob Chadwick, president of the New Castle County Chamber of Commerce.
"Marlette Funding announced plans to add more than 200 jobs in Delaware," he said. "With a steady increase in venture equity investment in the financial services arena, now is the time for all stakeholders to convene, converse and collaborate to ensure that Delaware remains at the forefront of this growing industry."
The second annual First State Fintech Forum is in the works for this year, and GDFN plans to have a presence at the NCCo Chamber Talent Conference this summer.
GDFN will be open to Chamber members working in the financial services industry. For more information, contact Joanna Staib at staibj@ncccc.com.