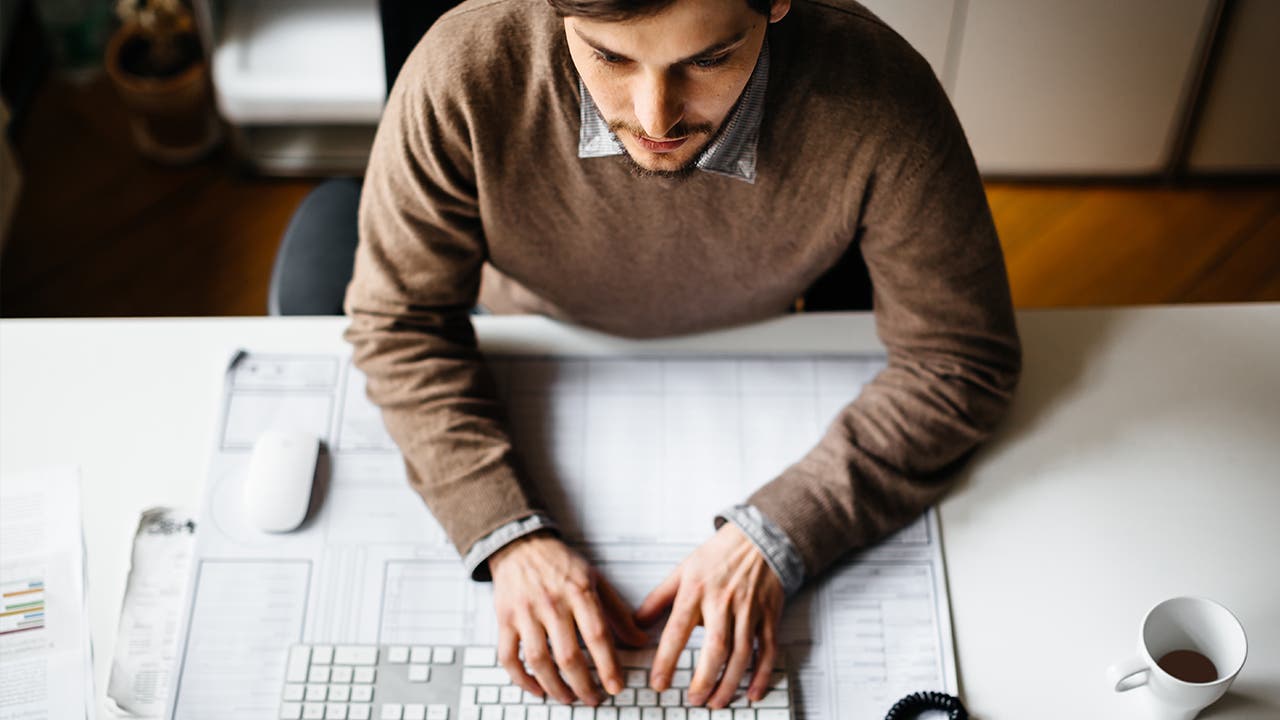 "Fintech" officially became a word this summer. Finally.
For years, bankers, technologists and MBA clubs have flung around the word "fintech" like a toddler with paint to describe something big: redefining financial services for a digital age.
For brick-and-mortar banks, it's been an existential crisis. Financial institutions have been trying all sorts of things outside of their buttoned-up stereotypes — for example, hosting hackathons, relaxing dress codes rules, and in one case, creating "National Fintech Day."
For you, the future of financial services might only make you think of mobile bill pay or remote deposit capture. But, the ripple effects on consumer finance are gigantic. How you pay back your friends and save money is changing. So is wealth management, lending, currency and more.
"Right now, it's hot to be in fintech," says Dominic Venturo, chief innovation officer and executive vice president at U.S. Bank.
There's a reasonable chance you've already been using fintech. But, there's a lot of fintech offerings that you might not know about. So, Bankrate checked in with those in the know to help you navigate the labyrinth of what's important to follow now. Here are the top five practical fintech trends.
1. Influencing your savings
You wake up feeling excited about your banking to-do's about as much as you do filling up your gas tank. Entrepreneurs and bankers recognize the apathy and have been whipping up ways to automate banking chores, so you get them done without wasting your time.
Take savings accounts. Most of us struggle to save in these accounts. But, firms like Digit, Qapital, USAA and Blast offer tools that move small amounts of your money into a savings account while you go about business as usual, like playing a game or buying a coffee. For those of us needing to pay off a debt first, there are apps for that, too. Fifth Third's Momentum and ChangEd, for instance, are rounding up our change on purchases to put toward paying off a student loan balance. All of these apps act like automated robbers to help us build a healthy habit.
Other apps, like Trim, Truebill and Bill Slasher, help you find ways to save on subscriptions and other bills — marking another way fintech can already help you save money. "It has practical implications on your day-to-day life," says Chris Tremont, executive vice president of virtual banking at Radius Bank.
Just remember: These kinds of apps are meant to save you money, but they may charge a fee and they will likely require access to your bank data if they aren't coming from your bank. So, read an app's terms and conditions to know what you're getting into before accepting them.
2. Saving you more time
Navigating a digital banking app to find, say, a recent Starbucks transaction can feel like going to a mall for the first time — without a map.
So, banks and fintech companies are working on helping you get what you want done in a more natural way, including by letting you use your voice to, say, ask Amazon's Alexa or Apple's Siri where your money went as you're whipping up dinner. While voice banking is still maturing, many are bullish on its future.
"We do see voice as becoming part of the next interface," Venturo says.
Banks, like U.S. Bank, Capital One, Ally Bank, Mercantile Bank of Michigan, already let customers use their voice to do banking tasks. Tech companies, like Abe AI, Personetics and Kasisto, sell the technology that lets banks deliver conversational banking experiences.
For now, voice banking is mostly for simpler stuff, like reading your last few transactions. But, technologists see a day where you could use your voice to, say, apply for a mortgage.
It speaks to a larger trend: fintech slipping into technology at large, so you don't even really notice a distinction. Existing evidence? Widely popular WeChat Pay in China. As Jill Castilla, CEO and president of Citizens Bank of Edmond, put it: "Our financial lives will be more integrated."
3. Preventing financial exploitation of older adults
This blossoming fintech trend aims to solve a very serious problem: To help spot or prevent financial abuse of elders who may also be struggling with memory loss and other health-related issues.
In recent years, a cadre of fintech companies have been popping up to help get in front of scammers who frequently target seniors. True Link Financial, for instance, offers prepaid Visa cards with controls, such as blocking certain merchants. The idea is to let the aging preserve their independence to pay for things, while also keeping their money safe. EverSafe, for another, provides a digital service that mines someone's transactions to alert him or her to a red flag, like a missing pension check.
Users of this kind of fintech are people of all ages, however. Stessa Cohen, research director at Gartner, sees this trend as helping adult children answer the question of how to protect loved ones when they suddenly step into the role as caretakers.
It's important to watch as it aims to simplify your life at a very difficult time. "You don't have to be in panic mode," Cohen says.
4. Neobanks becoming real banks
In the wake of the recession, a number of startups emerged to make checking accounts less complex. Led by Simple and Moven, these startups were dubbed neobanks — they worked on ways to help you digitally manage your money, while they partnered with FDIC-insured institutions to hold your deposits.
Nowadays, there are more neobank options, and they're growing up. Recently, Varo Money announced the Office of the Comptroller of the Currency granted preliminary approval of its application for a national bank charter.
It's a milestone because new banks have been few and far between since the recession. It's also a big deal because of the neobank's ambition. In striving to become a bank, mobile-only Varo aims to lower the cost of banking while delivering more products and services that improve consumers' financial lives.
"That's what they want and that's what we are trying to deliver," says Carl Gish, chief marketing officer at Varo Money. The U.S. could welcome other fintech banks, too. But not without a battle. State regulators have already legally challenged fintech bank charters. So, only time will tell how it all pans out.
But it's worth watching. It could mean more banking options for you. And at the very least, it will likely drive big banks to improve their digital banking.
5. Your favorite fintech app becoming safer to use
For more than a decade, there's been a battle over the way fintech apps work. In the past year or so, that battle is crescendo-ing into public feuds and the U.S. Department of the Treasury writing a report on the topic.
It's over bank data. Your data. All sorts of money-management apps (think Venmo and Mint) require your bank data in order to work. To get that data, there's a good chance the apps require your bank login credentials. Not only is that practice considered risky, but it's likely a reason you've encountered an error in, say, using your budgeting app.
Now, regulators, banks and fintech companies are bickering over a safer and more reliable way to move your data. It's in the weeds, but the evolving data-sharing model matters a lot to you.
Many believe big banks are bound to invest in ways where you can safely move your data into the portal of your choosing. Some of them, like Capital One and Wells Fargo, have already signed deals with select fintech companies to do so. In other countries, it's the law.
Chris Skinner, author of "Digital Human" and chair of the European networking forum Financial Services Club, views the data-sharing trend as one of the biggest ones in financial services right now. In particular, he's watching what so-called open banking could mean for consumers who might permission their financial data to big tech companies, such as Amazon and Google.
But, it's early innings. And the U.S. is behind other countries in these efforts. But, some U.S. banks are hard at work in creating ways for you to share your data in a more secure manner — U.S. Bank included.
"One of the things we are trying to advance forward is creating a world in which you wouldn't ever have a reason to take, for instance, your bank username and password and give it to some other entity to make a service work," Venturo says.