On March 9, 2018, PACcoin was suddenly listed as the third largest cryptocurrency on CoinMarketCap, one of the leading price tracking websites in the digital asset world. PACcoin momentarily achieved a $34 billion market capitalization, ranked just behind Ethereum ($67 billion) and bitcoin ($150 billion). PAC is an acronym for "People's Alternative Choice," and various versions of the cryptocurrency have been around since at least 2015.
The strange thing is that not even PACcoin – which bills itself as "a 3rd generation peer to peer cryptocurrency" – believed this could be true.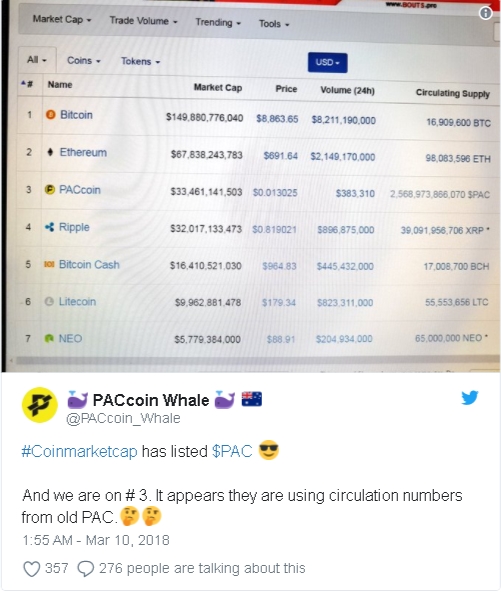 It looks like PACcoin's extraordinary listing was due to a hiccup on CoinMarketCap. According to reddit post in r/PACcoin, the shocking listing looks like it might have been prompted by an "incorrect multiplier."
One user wrote:
Just reaching out to note that CMC [CoinMarketCap] has us ranked as #3 but is apparently using old pac as the multiplier which is incorrect. This is being looked into and we're working to address it. Please pass this information along ….
P.S. I've posted to Bitcoin Talk, Discord, and the blog is being updated. Brad [the project's Chief Marketing Officer] is traveling today and we're working on twitter."
"PACcoin taking it's [sic] rightful place among the gods, we knew they could do it!" one reddit user humorously replied. "Now that's what I call a flippening!!!"
In reality, the 24-hour volume of PAC remains under $1 million total, and the vast majority of its trading takes place on one exchange, Cryptopia.
By the time of publication, CoinMarketCap had already resolved the false listing, returning Ripple to third in the global rankings and restoring EOS to its place among the top ten largest cryptocurrencies. It appears that the listing glitch was isolated to CoinMarketCap, as other price trackers like LiveCoinWatch did not reflect the sudden PACcoin spike.