The Lightning Network might still be in its infancy stages, but it already has more active nodes running than Bitcoin Cash (BCH).
Statistics show that the Lightning Network has taken a slight lead over BCH when it comes to the total number of nodes running on their networks. The data shows there are currently 1,347 Lightning nodes compared to Bitcoin Cash's 1,286.
This accomplishment is particularly impressive given that Lightning boasted a measly 29 nodes back in mid-January.
In all fairness, the Lightning Network node count seems to vary depending on where you're pulling the data from: while at the time of writing this site claims there are 1,347 active notes on the network, this one suggest the number is slightly higher – 1,362. This discrepancy suggests the stats might be slightly off, though the difference is likely not all that significant.
Among other things, node count data is important as it could be a good measure of a network's user base and its decentralization factor.
Another thing to point out is that – in comparison to Lightning Network – it appears a large chunk of BCH's nodes are hosted on Alibaba servers purportedly located in Hangzhou; while this is not necessary problematic, it indicates that most of the Bitcoin Cash mining power is centralized in China: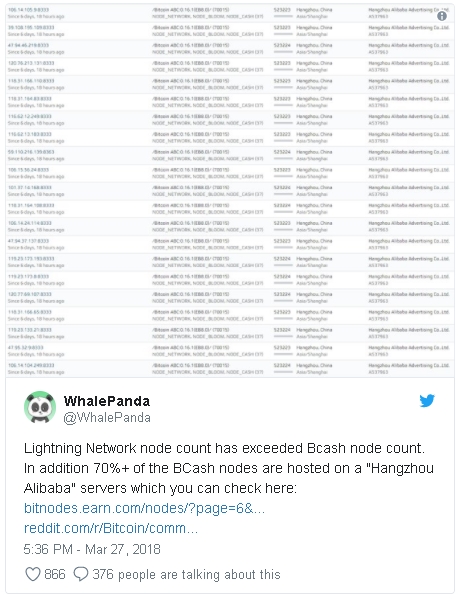 For the record, while these numbers reflect well on Lightning's progress, it's worth noting that the network still has a number hiccups in sight.
A couple of weeks back Bitcoin Core developer Peter Todd hinted the Bitcoin scaling solution could be vulnerable to DoS attacks – in addition to a few other kinks.
Still, that did not stop developer Lightning Labs from securing a bulky $2.5 million investment from the likes of Twitter CEO Jack Dorsey and Litecoin founder Charlie Lee.
Following another round of testing with Lightning, Todd came back to say that contrary to its "beta" status, the network still functions as a product in its "alpha" stage:
Last week the research arm of cryptocurrency exchange desk BitMEX revealed that node count is not the only thing Bitcoin Cash is struggling with.
According to a new study, Bitcoin Cash's cumulative transaction volume was 31.5-percent lower than SegWit's – a protocol for the Bitcoin network designed to solve high transaction fees and growing scalability issues.